ABOUT
CONFUSION FILMS, LLC IS A MISSOURI BASED FEATURE FILM PRODUCTION COMPANY. STARTED IN 2009, THE COMPANY'S FIRST FEATURE, HIDDEN, WAS COMPLETED IN 2010 AND RELEASED NATIONWIDE IN OCTOBER OF THAT YEAR. CONFUSION FILMS CURRENTLY HAS SEVERAL PROJECTS IN VARIOUS STAGES OF DEVELOPMENT.
FOR MORE INFORMATION ON CONFUSION FILMS, PLEASE CONTACT US AT: INFO@CONFUSIONFILMS.COM
CONFUSION FILMS - HIDDEN (2010)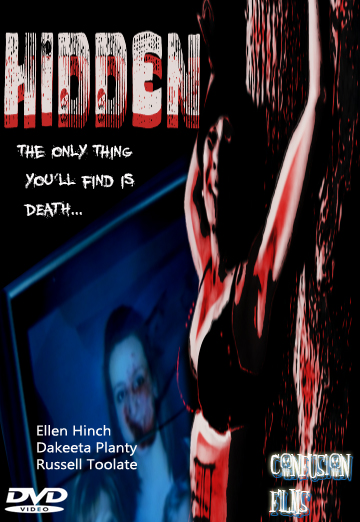 HIDDEN - Follows Trish Garrett, a college student that finds herself stalked by the same killer responsible for her parents' brutal murder a year earlier. Trish's attempts to escape the killer lead to terrifying discoveries about the truth of her family.
Sabrina Jinx film critic for World of Horror said, "HIDDEN… is exactly what a low-budget horror film is suppose to be, a fun little thrill ride that keeps you wondering what exactly is going on... A lot of films try to mimic the slasher films of the 80's and fail painfully, but this film understands the spirit of the original Halloween, Friday the 13th, and other greats of that era, and hits it on the head."
As part of the 5th anniversary re-edit, here's a peek at the alternative ending... It's extra CHEESY!!!
HIDDEN (THE DRIVE-IN CUT) -
Completely re-edited and remastered for the 5th anniversary. Complete with alternate ending and intro by puppet zombie movie critic DEAD IKE. "Somethings are best left HIDDEN!!!"
5th ANNIVERSARY SPECIAL RELEASE - DOWNLOAD THE FULL FILM FOR FREE!!!
DIGGING UP BONES... Our first short from 7 years ago, MARTIN GIMBLEY'S ESCAPE!!! Check it out, and remember... You'll get what you DESERVE!
STAY TUNED FOR FUTURE PROJECT ANNOUCEMENTS